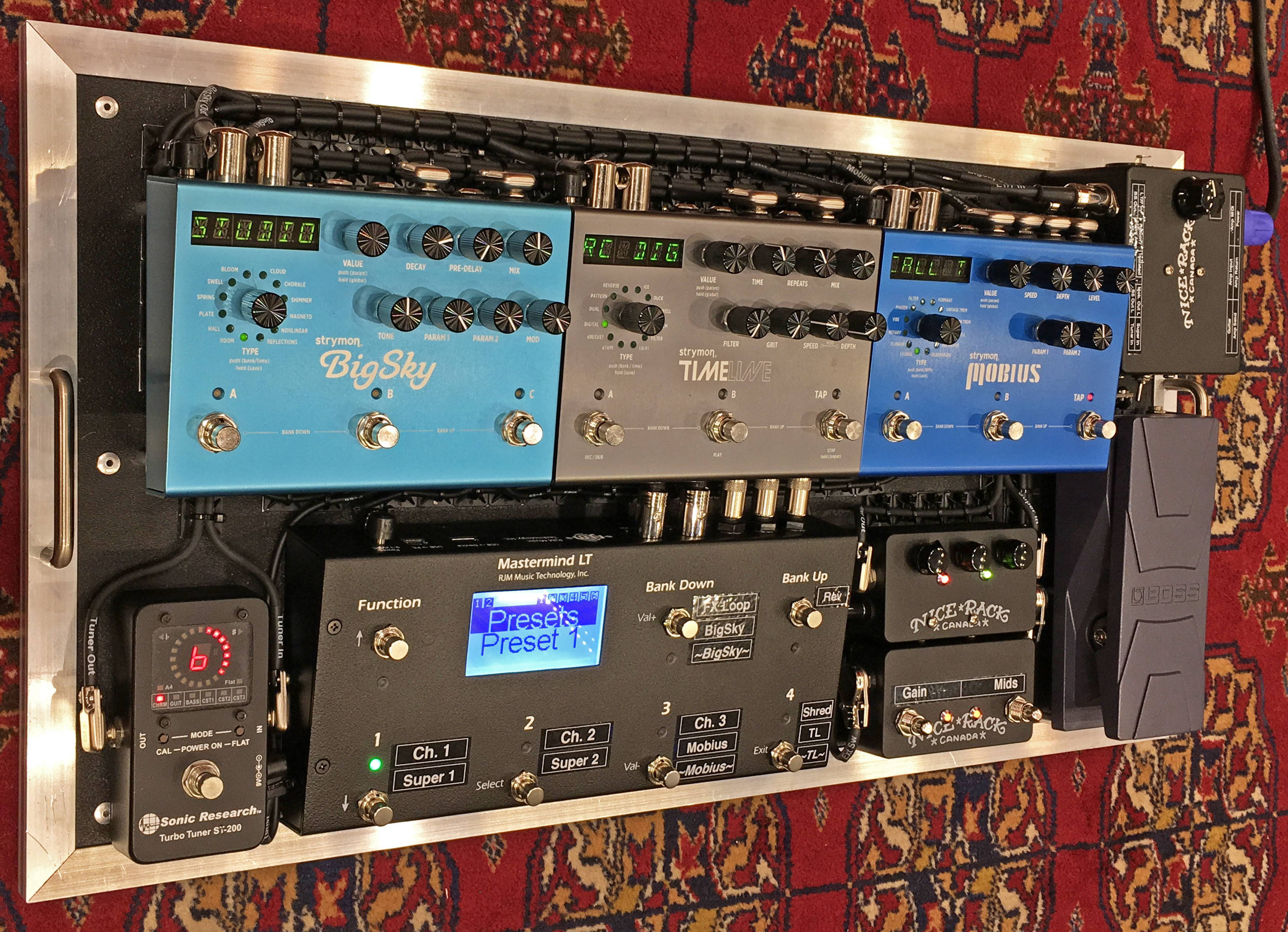 A few months back Nice Rack Canada built this pedalboard for one of the most talented guitarists in Canada right now, Robb Cappelletto.
Building rigs for a dedicated tone seeker is a pleasure. Robb has done all of the homework on chops & gear.
On November 21, 2019 Robb's new album "Double Red" will be released, available at
http://bit.ly/RCDoubleRed
The album was tracked using this rig and we're super excited about the results.
The rig is classic "4CM" affair. Guitar --> Zachary Vex Effects Super Duper 2 in 1 --> Strymon Mobius "Pre" --> Mesa Boogie JP-2C Pre Amp --> Strymon TimeLine --> Strymon BigSky --> Sonic Research Turbo Tuner --> JP-2C Effects Return --> JP-2C Speaker Out --> Mesa 2x12" Cabinet.
Robb wanted a MIDI controlled rig for preset recall of the entire system. We suggested the RJM Music MasterMind LT/7 to control the MIDI equipped pedals, and the Z Vex Super Duper 2 in 1.
Although the Z Vex pedal is not MIDI equipped we modified it to be under the controller's command. We rehoused the pedal and replaced the switches with DPDT relays, which in turn are controlled by the LT/7's Function Switches.
Expanding the user functionality of the system we included a BOSS EV-30 expression pedal and Nice Rack Canada 2 Button Switchbox. The NRC switchbox is programmed as Instant Access to 1 of the Super Duper's circuits and the Eq on the JP-2C.
By utilizing the MasterMind LT/7's set list feature, Robb has found that his onstage work flow is much easier and seamless. No more paper set lists and tempos for songs are preprogrammed.
The Voodoo Lab X4 power supply system is tucked away under the Strymons. The lack of field effect from this power supply makes placement of these units much more flexible in a system design. Previously with transformer based step down circuits on the primary of the system PSU, a greater space between devices had to be employed to achieve a clean noisefloor in the system's audio path.
When you're ready to unleash your true tone and improve your playing experience, reach out to Nice Rack Canada we can help.
Nice Rack Canada
Tonesmithing Services | Pedalboard & Rack Systems for Guitar, Bass & Keys | Engineered Solutions for Musicians.
WEB:
http://www.NiceRackCanada.com
EMAIL:
info@NiceRackCanada.com