Hey all!
Recently bought two Pedal Switchers and one Commander, to make switching effects in our songs a bit easier. There are multiple places within our songs that I need to go from clean, with delay+reverb, to distortion, with nothing at all; or where I'm playing with the clean channel, and need to go straight to distortion with delay... etc.. etc...
Basically; Trying to solve the dreaded tap-dance scenario. So....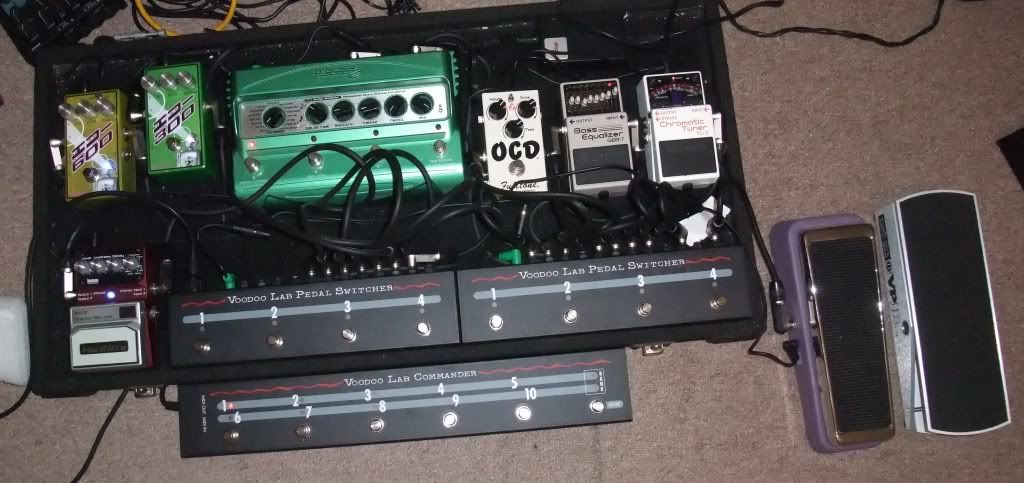 Right to left:
Ernie Ball Jr. Volume pedal
Budda Wah
Boss TU-2
Boss GEB-7 EQ
Fulltone OCD
Line 6 DL-4
Malekko Echo 300 Dark
Malekko Echo 600 Bright
Digitech Hardwire Reverb
Pedal Switcher x2
Commander
As soon as the Control Switcher becomes available, I will be adding that to my rig so that I can easily switch everything from one footswitch. I've got the tuner plugged into the very first loop; for silent tuning.
Now; a few questions:
Should I use buffered or unbuffered inputs on these pedal switchers? All the pedals on the 2nd switcher are true-bypass, most on the first are not. I'm not sure if I really care about true-bypass... I've noticed that sometimes I like the tone change that a pedal can introduce.
I play with a Laney VH100R currently. It has a bunch of effects loops. I've been thinking about plugging the 2nd pedal switcher into the master effects loop, so I can then have footswitchable effects AFTER the preamp of my amplifier; does anyone have a similar thing going on?