Here's a rack system built for a local client. It essentially consists of 5 independent sub-systems that are stacked/racked. Each shelf having its own switcher [Voodoo Hex], its own power supply [Cioks DC5] + 2 ancillary DC outputs/shelf.
This modular approach helps keep audio cables to a minimum length. It also avoids having big cable chunks hanging out from the shelves, which makes sliding them usually difficult. Here, only few cables are needed to interconnect the shelves between each other and to-and-from the main interface located at the bottom of the rack. The custom built interface allows to distribute AC and DC current to each shelf in addition to dispatching audio and midi signals.
Each shelf features two interfaces on which AC, DC, Audio and MIDI cables are connected. It takes about 20min to disassemble the whole system and about the same time to put it together, making this built very scalable... shelves can be added or substracted and/or assembled into two smaller racks etc...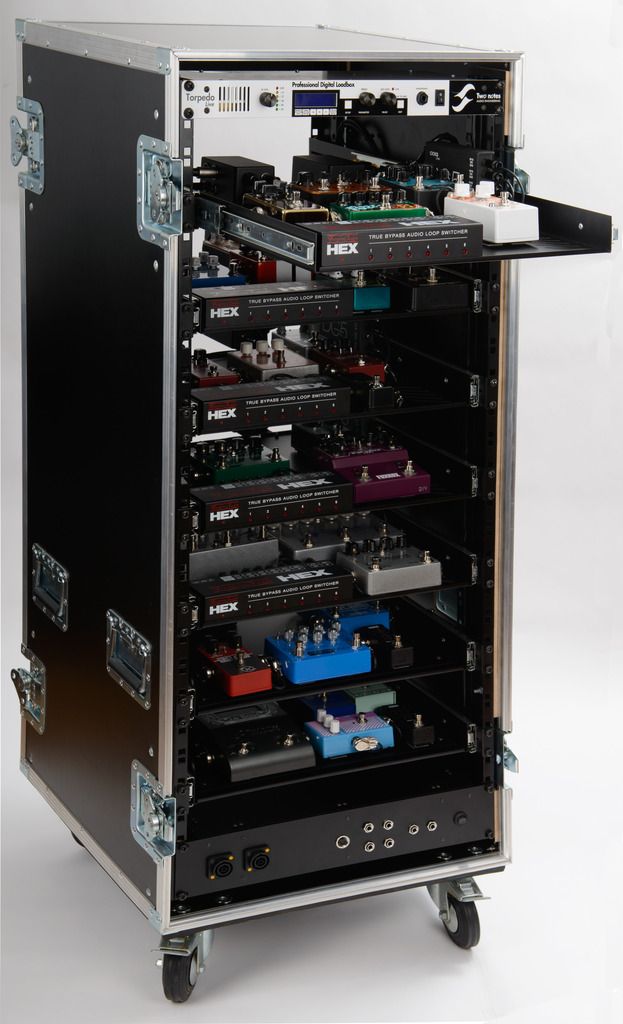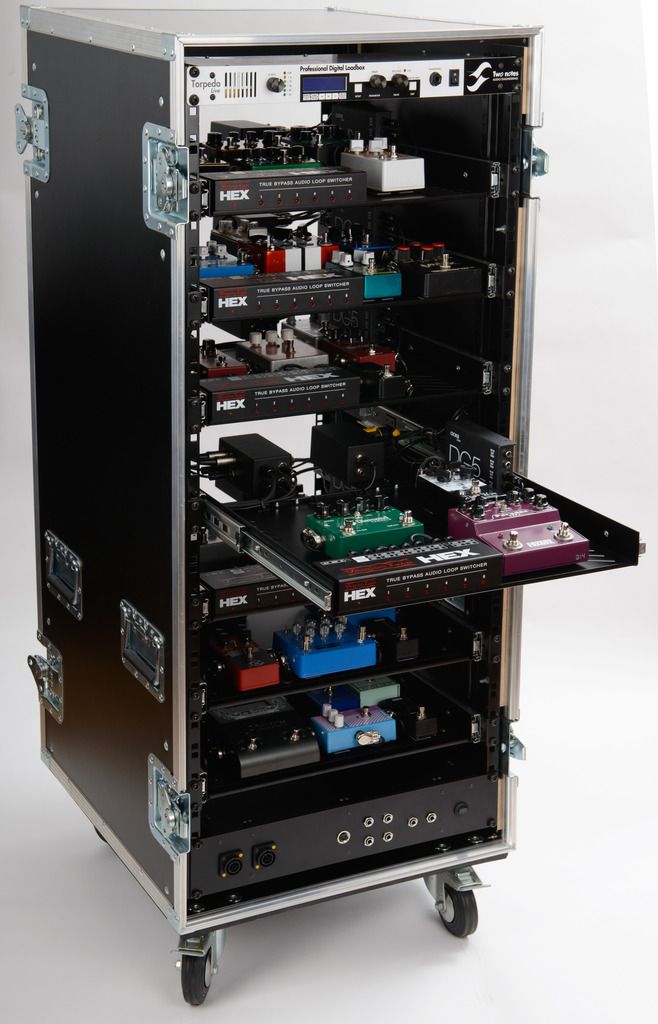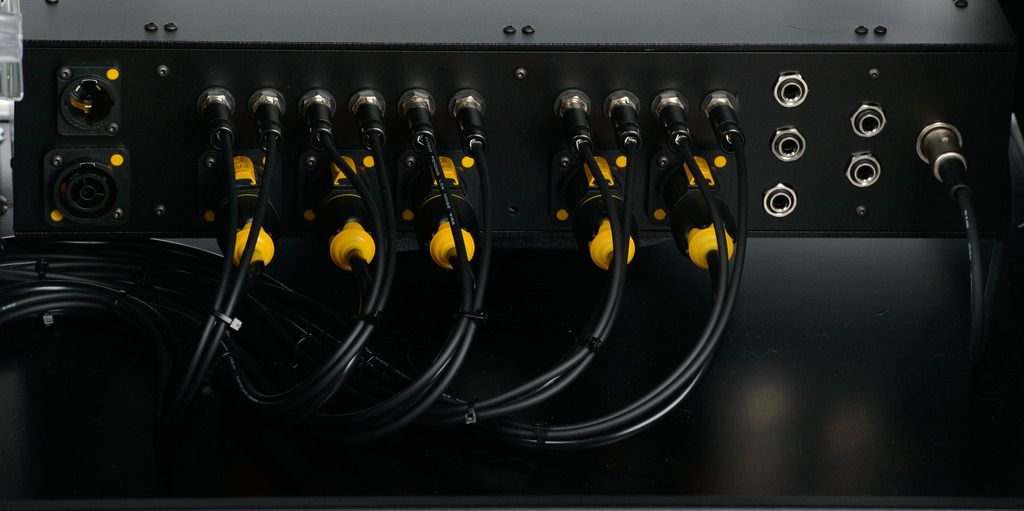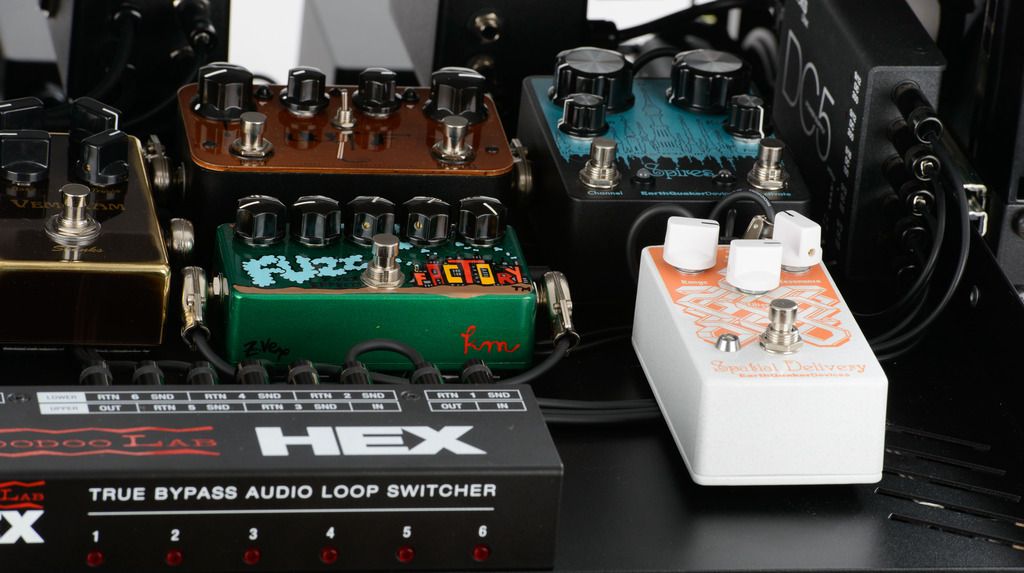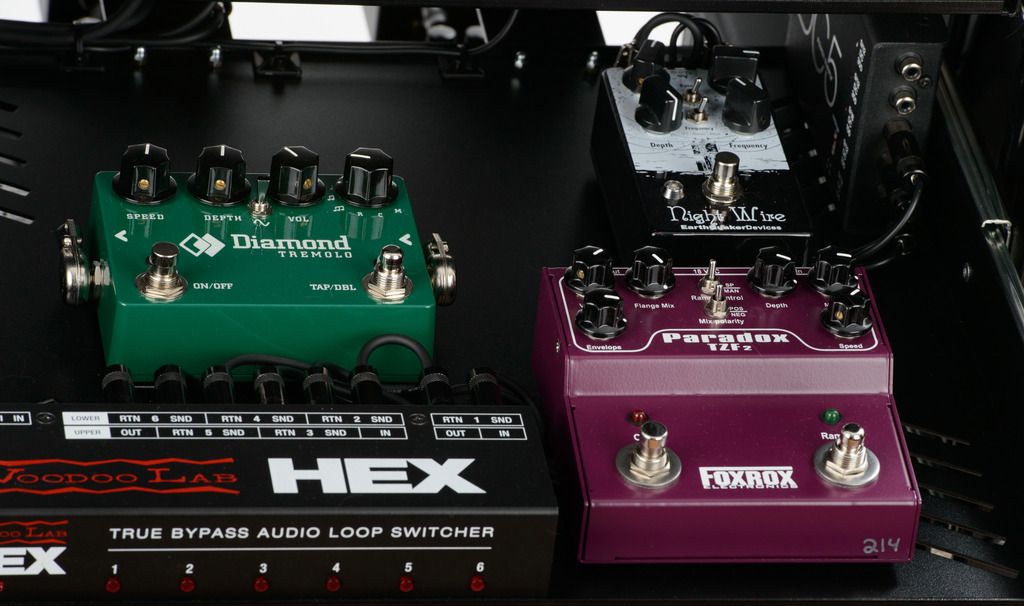 The signal chain is as follows
Shelf #1: EQD Spires – Zvex Fuzz Factory – JRAD WTFZ – Vemuram Shanks 4K – EQD Spatial Delivery
Shelf #2: Mad Prof Comp – PE Yardbox – JRAD Blue Note – SixD Sally Drive – Okko Comp – Klone
Shelf #3: Tuner – Drybell Vibe1 – EHX Micro Pog – Drybell Vibe2 – Chorus
Shelf #4: Foxrox TZF2 – EQD Night Wire – Diamond TR1
Shelf #5: Catalinbread Echorec – Diamond MLJR – Diamond ML2 – Catalinbread Topanga – Empress Reverb
Shelf #6 acoustic pedalboard: Tuner – Okko Comp – Empress ParaEq – Keeley 30ms
Shekf #7 bass pedalboard: Tuner – Malekko Diabolik – Aguilar Filter Twin – Aguilar TLC Comp – Two Note Le Bass
No stand alone buffers were used as I found the integrated Hex's buffer to be very musical.
http://www.analogtools.com
http://www.stompshield.com